Beyond This Point Are Monsters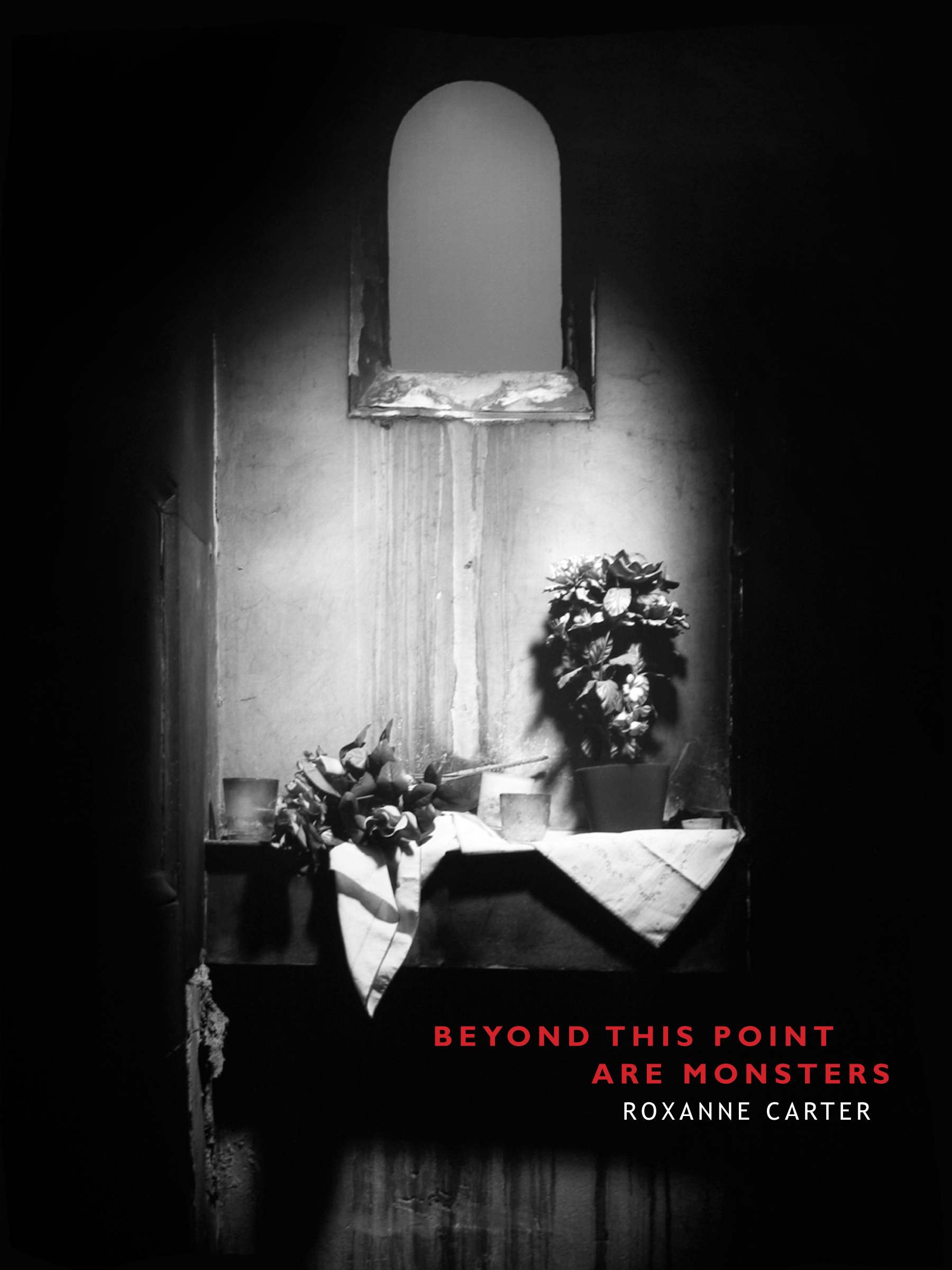 $18.00
978-0-9814975-8-7
perfectbound
6 in x 8 in
210 pages
Experimental novel by Roxanne Carter
---
"i look out of the window and watch as the waves suck back, white froth coiling and leavening; suddenly her face appears as if she is here, shining and beautiful. i have never seen her so clearly, so near. my heart, bloodthirsty, beats and i whisper. i whisper her name against the glass. i say her name and i am ungovernable."
---
Like a gothic teleplay by Gertrude Stein, filmed by Andy Warhol, and transcribed into a stunning lyrical novel by the very voyeuristic monster at its center, lustful in equal measure for the scintilla of soap opera set pieces and the two women — one master, one slave — trapped in an ever-shifting atmosphere of vamp and apprehension.
---
"Deep in this fabulous book someone says 'i watch to aid her loneliness.' The many meanings of that phrase suggest the glittering accomplishment, the rare morality of this book. Is it a 'cure' or an increase of loneliness one is after? The reading of Beyond This Point Are Monsters was an aid in many ways to many aspects of readerly need. What is helped, after all by going beyond 'this point'? — it is the need for monsters Roxanne Carter understands, not the avoidance of them. I have never read a more gorgeous novel in which the beauty is all in the mystery, not in any solution." —Bin Ramke
"The interior of the interior of the interior, precise movements in a haunted house: Here is a revelatory territory, dimly lit, curtained. In gorgeous sentences, Roxanne Carter translates the uncanny paradoxes of intimacy through shadow, ocean, ash. To read Beyond This Point Are Monsters is to wake in a dream, from a dream, and realize you are in a room illuminated by darkness. Its enchantments are both important and a pleasure." —Selah Saterstrom
---
Cover art by J. John Priola
---
"Beyond This Point Are Monsters reads like a beautiful nightmare that you never want to wake up from. A literary orgasm created by a threesome of conceptual metaphors, vivid imagery, and the written word. A gothic narrative spitting in the face of its predecessors as it rebels against the genre's norms." —Lyndsey Ellis, HTMLGiant
"We walk through all the doorways and become a part of the show—though voiceless, line-less, soliloquy-less. We are caught in a space between flat surface and tunnel, of shadows and spotlights, desire and shame, mother and daughter. Though surrounded, we march in a realm beyond words, where air is a poet not personified yet." —Alexandra Gauss, Editor's Pick, BOMB Magazine
Roxanne discusses her research and lifts the veil on some of the mystery at the heart of Beyond This Point Are Monsters.
---
Roxanne Carter received her MFA in Literary Arts from Brown University in 2008, and a Ph.D. in Creative Writing from the University of Denver in 2011. Her work has appeared in Tarpaulin Sky, Fact-Simile, Drunken Boat, La Petite Zine, and Sidebrow among others. Her first book, Glamorous Freak: How I Taught My Dress to Act, is available from Jaded Ibis Press. She lives in Ohio, where she blogs at www.persephassa.com.